Improving CRISPR-Cas9 Target Specificity by Fusion of Cas9 to Attenuated Anti-CRISPR Proteins (P-1482)
This approach allows the kinetic insulation of ON- and OFF-target editing events and to increase DNA editing specificity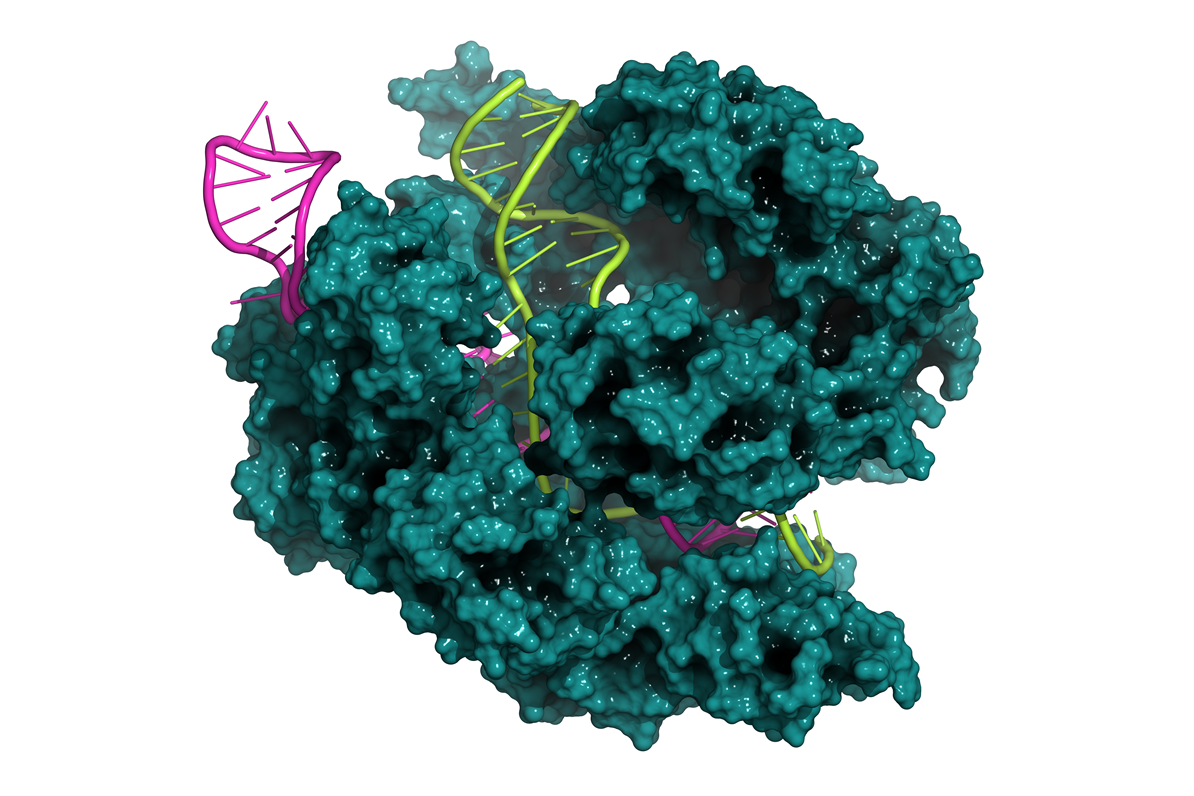 Background
CRISPR-Cas nucleases have limited target specificity.
This is a challenge regarding their application in research and therapy.
Existing approaches to increase target specificity have disadvantages such as the limitation to a single Cas9 ortholog.
Generalizable strategies to reduce OFF-target editing are highly desired.
Technology Overview
Artificially attenuated anti-CRISPR proteins are either co-expressed with or fused to Cas9 and are used to fine-tune Cas9 activity to selected levels (
). This approach allows the kinetic insulation of ON- and OFF-target editing events and hence can increase DNA editing specificity in CRISPR-Cas experiments. Fine-tuning of Cas9 activity can be guided using a mathematical model that facilitates the determination of optimal Cas9 activity levels for given ON- and OFF-target sites.
Stage of Development
Proof of concept in mammalian cell culture. Demonstration of highly specific genome editing using diverse single-guide RNAs prone to potent OFF-targeting. Demonstration that the strategy is compatible with different modes of delivery, including transient transfection and adeno-associated viral vectors.
Further Details
S. Aschenbrenner, S. M. Kallenberger, M. D. Hoffmann, A. Huck, R. Eils, D. Niopek, Coupling Cas9 to artificial inhibitory domains enhances CRISPR-Cas9 target specificity. Sci. Adv. 6, eaay0187 (2020)
Benefits
Robust fine-tuning of Cas9 due to covalent linkage of anti-CRISPRs to Cas9 via genetic fusion; circumventing the problem of unequal expression ratios
Potential future combination with high-fidelity CRISPR-Cas variants, engineered Cas enzymes, improved sgRNAs and kinetic control
Increased target specificity by fine-tuning Cas9 activity to selected levels using attenuated anti-CRISPR proteins (either coexpressed with or fused to Cas9) so that ON-target over OFF-target editing events are strongly favored.
Precise genome editing in mammalian - utility for gene therapy approaches.
Compatible with variable delivery modes including transient transfection and adenoassociated viral vectors; compatible with different CRISPR-Cas orthologs.
Applications
The technique can be applied in various areas that are subject to CRISPR-Cas technology, including scientific research (e.g. target validation), medical diagnostics (genetic screening), medical therapy (precise genome editing), animal models, agriculture, pharmaceutics, in vitro applications, industrial production processes.
Opportunity
Seeking licensing, development partner
Patents
PCT/EP2020/070031- "Improving Cas Nuclease Target Specificity"
IP Status
Patent application submitted
Seeking
Licensing
Development partner